Chelsea face Real Madrid in the Champions League this week, which means the Spanish press are covering the London club heavily.
The tie is seen as pretty evenly balanced, and anyone connected with the Blues is being tracked down by the newspapers to give their view on the game and who will win.
That's seen AS have a chat with Gustavo Poyet, and during that he picked out Luka Modric, and sent praise to the Croatian for the time they spent together at Tottenham Hotspur.
Asked about playing with the midfielder and Gareth Bale at Tottenham, Poyet said: "Modric has an understanding, a quality, a balance in his game, the position, how he looks for the ball… With respect to others, the best I had in front of me. People have to know Bale to understand him. When you meet him and talk it is a pleasure to be with him."
Chelsea are currently going through off-pitch issues, after owner Roman Abramovich was sanctioned due to Russia's invasion of Ukraine. Poyet was asked how he sees things at Stamford bridge currently: "I don't like to mix politics with sport, but for the Chelsea fan it's a very complicated situation. I hope it can be fixed, because no one deserves it."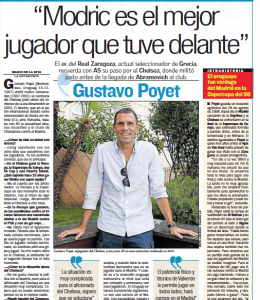 Despite the current issues with the Blues, and despite Carlo Ancelotti's Real Madrid currently being top of La Liga with a 12 point gap to Barcelona, Poyet believes Chelsea are the favourites going into the match, and told AS: "It will depend on how the players arrive. There are players that you need in these games and it will be decided depending on who is there, because the level is very even. This Madrid is almost the same as last season, but it has been reinforced with Alaba and the best Vinicius. But regardless of everything, I'm going with Chelsea."