In all honesty, the reports from Portugal on Bruno Fernandes to Manchester United are becoming much less exciting… and a lot more complicated.
Following the big reveals of Thursday and Friday, as the Portuguese media led the way with the claims, there's been a lot of things which can be described as little more than filler.
Assumptions and obvious statements, and things many fans, and the English media, could guess themselves.
Wednesday's A Bola goes over the much repeated claims of Manchester United and Sporting having agreed a rough deal at €60m plus a further €10m in bonuses, and the potential loan of one or two players.
A Bola state, again, that Andreas Pereira is the option which pleases Sporting the most, however, it's made very clear he has a say in all of this, which could of course delay everything further.
The Portuguese newspaper states 'everything should be clarified by the weekend', and that means Bruno can play against Benfica on Friday evening.
They also state the midfielder will earn €4-4.5m a year in England, a figure likely to be after tax.
Record and O Jogo haven't even covered Bruno on their front pages for the past two days.
Record today state Bruno's transfer could be 'finalised at any moment'. They call the departure 'imminent' but state the lack of an official proposal means Sporting's manager believes he can count on the player for the Friday derby.
Thankfully, for the sanity of Manchester United fans, they don't think the player will available for the Taca da Liga semi-final against Braga on Wednesday 22nd January.
Bruno himself is said to be continuing as normal in training, despite knowing that at 'any minute' he could travel to England.
In a separate article, O Jogo report Manchester United's offer is expected in 'the coming hours', and it's made clear that now Jorge Mendes and Miguel Pinho have sorted out the Gedson Fernandes move, the newly formed double-act can concentrate fully on the Bruno situation.
An 'agreement in principle' exists between the two clubs on the basis of €60m guaranteed and a further €10m made up of bonuses and/or players, with the latter aspect of the deal being why things are dragging out.
Over at O Jogo they say contact is constant between the two clubs, and Sporting plan to play with time so they have Bruno for Benfica.
A 'Nani formula' is mentioned for the potential loan(s). When Marcos Rojo signed for Manchester United, the club sent Nani the other way on loan and paid his wages for a season.
This is known to be factual because it was the subject of a court case. Sporting had bought Rojo from Spartak Moscow thanks to funds from Doyen, and the agency were then due 75% of a future transfer fee. Sporting's former president Bruno de Carvalho (be thankful he's not there now) refused to pay, and when Doyen took it through the courts they included the Nani loan as a financial payment to the Lisbon club.
Doyen won.
O Jogo say United had initially been reluctant to repeat the Nani formula, with the suggestion they're now softening on that stance. They believe Angel Gomes is the likeliest option right now, which would bring in further complications because of his contract situation.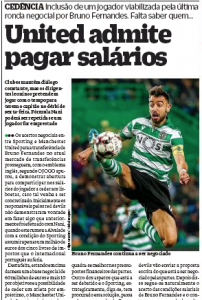 The newspaper also states United aren't on the same page as Sporting with regards to Bruno playing on Friday, and it's only after these issues (loan, loan wages, Benfica match) have been sorted that a 'written proposal' will be made.
In Portugal, there's a lot of hang up about the difference between a verbal offer (the €60m plus €10m) and agreement and a formal one, with the official bid only happening when everything has been agreed.
All clear, right?