In the long list of strikers to have played for Leeds United down the years, Caleb Ekuban is not one they will remember fondly.
The striker made a move to Elland Road in 2017, joining in a £500,000 deal from Italian side Chievo. He made 21 appearances for Leeds that year but managed two goals and one assist throughout the campaign.
That saw him shipped out to Trabzonspor on loan last season, with him managing eight goals and three assists in all competitions for the Turkish side.
Those numbers were enough to convince them to make the move permanent this summer in a £900,000 deal.
And it's fair to say that the transfer is working out quite well for the 25-year-old early on.
Thursday evening saw Trabzonspor taking on Greek side AEK Athens in Europa League qualifying, and Ekuban was the hero as he bagged a hat-trick in the 3-1 win.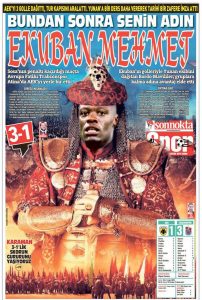 That performance earned him plenty of love and adoration in Turkey, with Karadeniz de Sonnokta winning the award for most inventive.
They were blown away by Ekuban's performance, going as far as to depict him as Mehmet the Conqueror in a rather striking front-page spread.
For those that don't know, Mehmet the Conqueror was an Ottoman Sultan who brought an end to the Byzantine Empire at the age of 21 and claimed the title as Caesar of Rome after conquering Constantinople.
He's widely considered as a modern-day hero in Turkey, so Ekuban being depicted as him after his performance in Europe is a pretty strong statement.
Of course, this is just the newspaper going a little over the top, but it does go to show that even if you fail in one place, you can always become a hero somewhere else. Ekuban's quick transformation post-Leeds is a perfect example of that.