Thursday's edition of De Telegraaf had a big article on Marc Overmars potentially leaving Ajax and taking up a Director of Football role at Newcastle United.
To be clear, this information won't have come from a source close to the Premier League club, and likely won't have come from an agent. De Telegraaf certainly isn't the kind of newspaper to pluck something from thin air, so the assumption would be the claims came from someone very close to Overmars, maybe even the Dutchman himself.
When Ajax have been negotiating sales in recent years and have been in battles with clubs over transfer fees, it's often been De Telegraaf where claims have suddenly appeared of big offers from elsewhere.
For example, when Tottenham Hotspur were negotiating Davinson Sanchez's move, and didn't want to pay what Ajax wanted, there were, all-of-sudden, reports in the newspaper that Real Madrid were moving into the picture.
This wasn't backed up by the media close to Los Blancos, and it was all quite transparent. Spurs didn't budge much, Madrid unsurprisingly did nothing, and the English club got the defender anyway.
Friday's De Telegraaf has more on Overmars to Newcastle, and brings Erik ten Hag, Ajax's manager, into the equation. The bottom line is that should the Magpies appoint the former Arsenal player, then he'll try to take the manager with him.
The detail is quite interesting.
Firstly, the Dutch newspaper say normally people in senior Ajax roles would turn their noses up at Newcastle, but they've now 'been kissed by a crown prince'.
Despite the 'dubious reputation, where human lives don't count' of Mohammed Bin Salman, it's made clear Overmars would be 'comfortable' with the role. Indeed, the article states: 'He will honour a request for an interview.'
It's then explained Overmars and Ten Hag have perhaps come to the end of the road of what they can achieve with Ajax, and the director doesn't fancy the 'hellish job' of a likely rebuild should players leave, as expected, in the not too distant future.
De Telegraaf then state: 'Overmars knows that a good trainer-coach is vital to make Newcastle a success story. Hence, if the Saudis appoint him as technical director, he will poll Ten Hag. He is in the same boat at Ajax as Overmars. After a successful season, he will be triggered by a new challenge with unlimited possibilities.'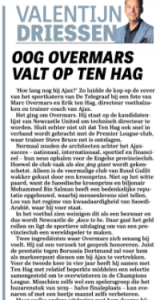 The 48-year-old director is paid what is described as a 'meagre' €700k a year. The report goes on to call that a 'starvation wage' in comparison to his 'colleagues at the top' of the game.
This all seems very much like a come-and-get-me-plea, verging on the desperate.
If the situation is as it appears, it will be interesting to see what Edwin van der Sar, Ajax's Chief Exec, makes of his Director of Football seemingly offering himself, and potentially the club's manager, up to another club.
That, of course, isn't Newcastle United's problem, and this looks like an opportunity being presented to them on a plate.