Both Catalan sport newspapers go big on Wednesday with Coutinho to Barcelona, but both also present alternatives in case Liverpool scupper the transfer.
There seems to be a constant Catalan media balance between confidence verging on cockiness and a realisation all the power is with Liverpool.
Mundo Deportivo state there's a 'double guarantee' that Coutinho to Barcelona will happen in January. The first part is that personal terms have been agreed with the Liverpool player since the summer, so there's a big tick from the Catalan newspaper there.
Secondly, it's stated Coutinho has an agreement with Liverpool that he can move to Barcelona in January for a 'reasonable price'.
See, all sorted, the 'double guarantee' assures everyone.
But, there's a big BUT. It's completely up to Liverpool what a 'reasonable price' is and, here's a Sport Witness guarantee, what the Anfield want to get and what Barcelona think is reasonable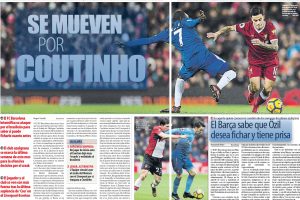 will be different, at least to start with.
So whilst Mundo Deportivo say the 'double guarantee… generates tranquility' at Barcelona, that's quite clearly questionable, and is why both Catalan sport newspapers continue to wheel out alternatives.