Towards the end of January, West Ham were looking around for a new centre-back, and one of the main names being thrown around was Anderlecht's Kara.
The Senegalese defender earned himself a lot of recognition with two great performances against Manchester United in the Europa League recently, and if some Premier League clubs were interested before, a lot more will be now.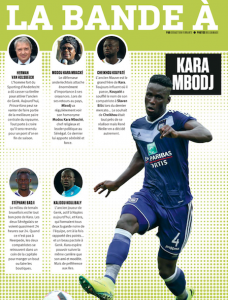 As well as the Hammers, Leicester City and Crystal Palace were said to have placed bids, yet West Ham have an ace up their sleeve to try and win this race, and his name is Cheikhou Kouyaté.
The Senegalese star has already spoken about his national teammate many times to the Belgian press, bigging him up for a move to England, and Sport/Foot reckon he was the reason Slaven Biluc moved for him in January.
The magazine explain the West Ham midfielder recommended Kara to his manager, which led to West Ham's approach in January for the 27-year-old.
Having shown Europe what he can do against the likes of Marcus Rashford and Zlatan Ibrahimovic, the Anderlecht defender is now fully expected to leave Belgium and move to the Premier League in the summer.
Let's see whether Kouyaté can use his influence once more.