Brazilian side Santos are interested in signing Andreas Pereira from Manchester United, the club president has confirmed.
Interviewed by local outlet A Tribuna, José Carlos Peres has revealed that he's in talks with the player's father, who's also keen on the move.
"He is a player that interests us a lot. He is a santista and wants to play for Santos. The family is trying. His father wants to see him at Santos for at least a year," José Carlos Peres told A Tribuna.
"The problem is that Manchester are playing hard. We know the end of the contract is in the middle of the year, but we want the player now. With his father, I've been speaking, but we have not yet entered into the details of values."
A Tribuna claims that new Santos manager Jorge Sampaoli, who was presented this Tuesday, has delivered a list of players who are currently in Europe and have their contracts expiring soon. That's exactly Pereira's situation.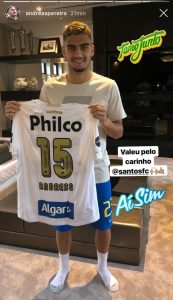 The midfielder has always made clear that he's a Santos fan, and recently said he would 'play for free if he has to'.
"I'm a Santista. My whole family is Santista and I grew up being a Santista. If it's to play, I'd rather play at Santos, end my career there. I think it's a dream. There's a lot of players who say I'm crazy, but I'd play for free at Santos if I have to. It's a dream. Who knows right after Manchester, winning a couple of titles here," he told Globo Esporte.
However, the Brazilian side know how difficult the signing is, even because Pereira's father hasn't said anything about the competition from European sides.
Earlier this week, outlet Globo Esporte had a story saying Pereira wants out of Manchester United, with West Ham's offer being the most attractive for now.
But as his main reason to leave the club was the lack of chances given by José Mourinho, maybe Pereira will have second thoughts after the manager's departure.