Good Morning Bruno Fernandes fans.
There's just over a week of the market remaining, we're losing the will to live, and the va-va-voom of the transfer window has turned into an inability to get out of second gear, but, anyway, here's your Friday morning update from the Portuguese newspapers.
A Bola use a big section of their Bruno update today to talk about Ed Woodward. Contrary to what you may have read in certain English media sources, the Portuguese press aren't in all out attack against Manchester United.
They've actually refrained from that, there's been no harsh pointing of fingers, or planting all the blame on the Old Trafford club. Perhaps the harshest they've come up with, generally at least, is presenting United as stubborn, but then each time that's done the same is said about Sporting.
A Bola's Woodward slant is based upon what they've seen and heard Manchester United fans saying.
Social media messages and stadium chants are mentioned, before it's pointed out that what's going on between the clubs is much calmer: 'If the fans are demonstrating, in the modesty of the offices, the clubs are trying to reach a level of understanding, but the negotiation, if it remains perfectly viable, is in fact not easy. Just yesterday, at a certain point, the deal was declared aborted, but a few minutes later everything was open. A negotiating process that, as can be seen, is prolonged, but whose outcome should be known soon.'
As far as A Bola are concerned, it's now down to Sporting to respond to United, who are trying to present 'various solutions' to get a deal done. One of those is €55m guaranteed, plus a further €10m in attainable bonuses.
That's felt as United softening, because at first the bonuses were 'practically impossible'.
Yesterday saw new telephone contact between the clubs, without 'white smoke' being reached, and today there'll be more talk.
Manchester City interest is suggested, but A Bola are very clear to present that as a possibility and certainly don't say Pep Guardiola's side have any plan to sign Bruno Fernandes at this stage.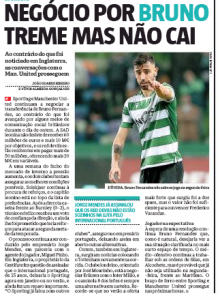 Record report, contrary to what was reported in England on Thursday, the Red Devils and Sporting continue to negotiate.
Their figures are different from A Bola, and they state the English club are offering €50m plus €20m in bonuses, although the difference could be related to some of the bonuses being unachievable. The Lisbon club are still holding out for €60m plus a further €10m in bonuses.
Record say it's 'likely' Bruno won't be available for Monday's Maritimo match.
O Jogo say, as of last night, the two clubs were still in dialogue, with Frederico Varandas sticking to his €60m request.
They believe Miguel Pinho, Bruno's agent, has managed to get another €5m out of Manchester United, going to €50m plus €15m in bonuses, but Varandas continues to point at the €60m.
That stance from the Sporting president is thought to be what's blocking the transfer right now.