Every day there's a new Coutinho slant from Spain. Usually from the Catalan press and usually explaining how Liverpool are about to capitulate or Jurgen Klopp has done something to further annoy his Brazilian star.
But on Thursday we've found something a little different. In national Spanish sport newspaper AS, there's a column detailing what a soap opera Barcelona are managing to make of signing Coutinho, and how everything is turning into a mess again.
AS say when Barcelona go to market a soap opera is guaranteed, and the club are like 'someone who goes to the supermarket and pays with a pile of pennies, leaving huge queues'.
Barcelona transfers, just like this Liverpool effort, are said to turn into dramas 'involving intermediaries, uncles, agents, cousins, investment funds, sheikhs, American capitalists and angry presidents'.
Targeted players are said to end up involved in unwelcome photographs, transfer requests, sometimes pick up suspicious injuries and have dodgy matches, and even then those in charge of transfers at Barcelona can change their mind.
It's a scenario Liverpool can surely nod along with.
Managing to annoy Liverpool so much has only made the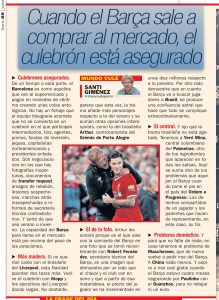 Coutinho transfer harder for Barcelona, and it's pointed out that Gremio's Arthur is now likely to be more expensive after being pictured in a Barca shirt, without the permission of his club, alongside Camp Nou transfer guru Robert Fernandez.
AS don't say it, but the insinuation is surely that Barcelona are continually tripping over their own arrogance.