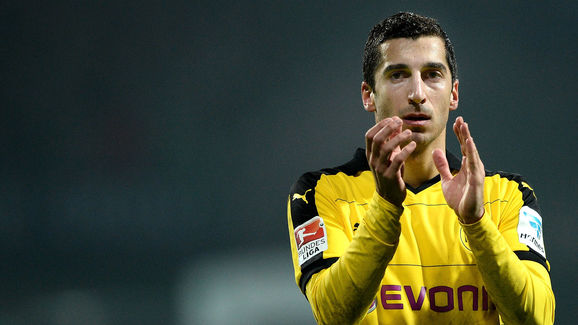 The transfer of Henrikh Mkhitaryan from Borussia Dortmund to Manchester United might not be official yet, but it seems certain that the Armenian will join the English powerhouse this summer. Most probably the transfer only stalls because the German club wanted to wait for the new fiscal year first before selling.
Time to look at what the Bundesliga's Player of the Season 2015/16 can bring to a reshaping United side.
In order to get a better picture of the type of player Mkhitaryan is, it's best to go back a few seasons.
It's the summer of 2013 and Mkhitaryan just secured his move to Borussia Dortmund after scoring an impressive 25 league goals in 29 games for Shaktar Donetsk.
Jürgen Klopp, Dortmund's coach at the time, famously said about his newly signed playmaker that he'd fit like "an arse in a bucket" at BVB.
Dortmund had just lost the Champions League final in heartbreaking fashion. A fast paced pressing style of football took them there and on paper Mkhitaryan's skill-set seemed to fit that perfectly.
The first thing that strikes the eye when watching Mkhitaryan is his impressive grace and skill when running with the ball. When he gets up a head of steam, he can glide past opponents almost effortlessly.
But even with all this evident talent, Mkhitaryan wasn't able to win over the fans with his play in the first season. Why is that?
Many will probably remember the almost infamous quarterfinal against Real Madrid, a game that summed up Mkhitaryan's time in Dortmund under Klopp.
Over 90 minutes Mkhitaryan played a great game and was influential in almost all phases. But when he had the chance to send the game into extra time and had already passed the keeper, the post got in the way.
Adding to his subpar finishing at the time, another evident problem was Dortmund's playing style. While a counter attacking style should fit him on paper, Dortmund weren't able to execute the style as they wanted.
Most teams in the league had adjusted their style to Dortmund's and were happy to leave the ball to Klopp's side. A situation they had no particularly promising plan or answer for and Mkhitaryan's play suffered from it.
This was most evident in Mkhitaryan's second season in Dortmund. The club struggled heavily and the Armenian at times seemed like he wanted to do it all by himself. He tried to carry the ball from the middle to the last third, then assist and then score himself and as a result none of it really worked out.
One of Mkhitaryan's few weaknesses seems to be short lapses of concentration in the middle of the game, and they seem to increase rapidly when he's low on self confidence.
During that time Mkhitaryan would often misplace the easiest passes or finishes, and made the wrong decisions more times than not. It got so bad that at one point a fraction, although a very small one, of fans booed him at a home game for one of his Champions League performances.
Up until Klopp decided to step down as manager it seemed very likely that Mkhitaryan and Dortmund would be declared a failed relationship after his second season. The ties were about to be severed.
As soon as Klopp announced his decision to step down as manager at the end of the season, Mkhitaryan started to perform better, even though the coach didn't change immediately. A transfer still seemed somewhat likely at the time, however.
Only the newly appointed coach Thomas Tuchel was able to convince Mkhitaryan to stay and immediately got the best out of him in a more possession based system.
Strengths
All his strengths that were always there but overshadowed by a chaotic system, bad finishing or extremely low confidence were suddenly there in the open for everyone to see.
While the most obvious skill of Mkhitaryan might be his fast dribbling and ability to carry the ball into dangerous areas, his arguably most important skills are tougher to detect.
Mkhitaryan understands how to create connections between players and parts of the team like very few players do. He almost always knows where to move to keep ball circulation alive and advance it forward.
Another similar and overlooked strength of his is to balance the movement of his teammates, ensuring stability on the pitch for his team. Especially for well structured teams like Tuchel's Dortmund.
Defensively Mkhitaryan has an admirable work rate and understanding of positioning and pressing. His great physical condition makes it possible for him to defend against even the fastest wingers and full-backs. Adding to that he rarely ever needs (or wants) a break and doesn't fade away physically at the end of games.
In his third season at Dortmund he also finally overcame his finishing struggles by scoring an impressive 23 goals in 52 games overall. Not to mention the almost ridiculous 32 assists while almost breaking the Bundesliga's assist record by notching an impressive 20.
Those numbers demonstrate that for Mkhitaryan, his goal threat isn't even his most important attribute. The Armenian is an all around great player and playmaker.
Very few players combine this kind of speed, instinct and understanding for the game, playmaking and technical ability.
Weaknesses
Of course, as every player he also has his weaknesses. As the aforementioned lapses of concentration and the chance of losing self confidence dragging him down severely.
Mkhitaryan's also not at his greatest in narrow spaces or in one on one duels from a standstill. He's also still not the most reliable finisher.
While it's not really a weakness by definition, Mkhitaryan's style of dribbling is defined by a very stable and tense upper body. Therefore he's not able to change directions quite as quick as some players with a more loose dribbling style. Given his speed and ability to trick opponents with body feints, this isn't much of a problem, though.
Will he fit in under Mourinho?
Now the big question seems to be if Mkhitaryan will be able to shine under Jose Mourinho like he did under Tuchel or if it will be more like the seasons under Klopp.
There are reasons to be sceptical about a transfer considering Mourinho's tactics and Mkhitaryan's mental strength.
In the past Mourinho's teams often relied on individual qualities to create breakthroughs, something that doesn't quite fit Mkhitaryan.
Obviously it's tough to predict how Mourinho wants this United side to play, but if he keeps that pattern it might be tough for Mkhitaryan to shine.
Another problem is the enormous size of a club like Manchester United. It's unlikely Mkhitaryan will keep up the crazy production of last season and should he not perform from the start, fan reaction might hurt his play. 
When Mkhitaryan played badly in Dortmund the fans usually, barring one exception, tried to encourage him and due to his high price tag it was unlikely for him to get dropped.
Maybe this will be a different story in Manchester, where the price of €42m won't stop Mourinho dropping him for bad performances, and fan reaction seems more unpredictable (at least judging from afar).
All in all it can be said that Mkhitaryan could possibly be a game-changing signing for Manchester United. Adding some much needed creativity and dribbling. Much will depend on his relationship with Mourinho, who seems to be either loved or hated.
It'll be an interesting season ahead for Mkhitaryan and Manchester United.
Luca Gierl.