Tuesday's edition of O Jogo reports Wolves have 'reached an agreement' to sell 50% of Ruben Vinagre.
They clearly can't cut him in half and send one piece to Sporting, and dual ownership is against several regulations, so this just boils down to Wolves being entitled to 50% of any future transfer fee.
Having done well whilst on loan at Famalicão last season, Vinagre caught the attention of the Lisbon club. Wolves wanted €20m for a permanent transfer, or an option approaching that as a mandatory clause in any loan deal.
O Jogo reports a compromise has been reached, and Sporting will now take Vinagre on loan for the coming season, with a €10m mandatory clause at the end. Wolves will then receive 50% of a future transfer for the 22-year-old.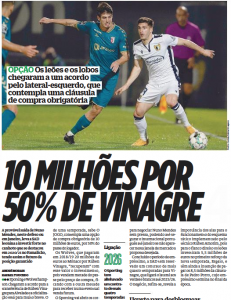 It's a gamble, but there's a reasonable chance it will pay off eventually. Sporting have a good record of sales, and should they help Vinagre increase his value then Wolves could be set for a cash boost in the coming years.
The Portuguese newspaper expect the deal to be made official soon.