For what should really be a low key transfer, Pau Lopez to Tottenham has been such a saga that it's genuinely headache inducing. Sport Witness can collectively vouch for that.
Early this year it was reported repeatedly in Spain that Pau making his Tottenham loan permanent was a sure thing. Spurs wouldn't pay the full €7m clause, but Mauricio Pochettino is a fan, and Tottenham would get it sorted out with Espanyol.
Then Spurs, as Spurs do, tried to play hardball and alienated what had been good contacts at Espanyol. The player's loan ended on June 30th, and Pau was officially an Espanyol player again.
At the weekend, Sport reported that everyone had started talking again, had presumably all banged their heads together, and a deal was 'very close'. There was even talk of an impending announcement.
Then AS reported that wasn't true, with Pau set to stay and be Espanyol's second choice behind Diego Lopez, with Roberto moving to Malaga.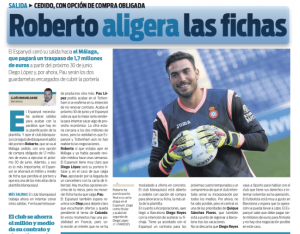 Wednesday's copy of Sport says a transfer is possible, but the problem is Tottenham and Espanyol aren't talking to each other about it right now. The Spanish club would be willing to sell for around €2m, and even have a whole list of options to replace Pau.
Of course, Sport are completely contradicting their earlier claims, but, from the latest report, the impression is Tottenham just need to pick up the telephone.
Be nice, offer a reasonable fee, joke about the arguments already had. Please, just get this one sorted out soon.