Tuesday's edition of Mundo Deportivo had an article which sounded just a little annoyed with Tottenham Hotspur on behalf of Espanyol. It was explained the Barcelona club consider Pau Lopez as gone, and if Spurs don't agree a deal soon then they'll sell him elsewhere.
Over at Sport, things are a little calmer. Sport are pretty chilled out about the situation and say Tottenham and Espanyol have agreed a deal will be done, and everything is safe, they're just arguing over the details.
Pau, brought to Spurs by former Espanyol player and manager Mauricio Pochettino, is said to be 'very happy' at Tottenham, but the club's first offer isn't enough. Long ago dismissing any idea of paying the €7m clause they agreed to, Tottenham's offer is said to be unacceptable.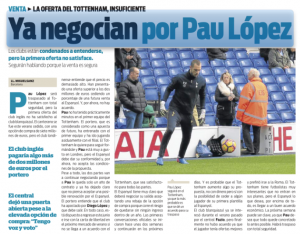 The first offer has been 'just over €2m' which is low to say the least, Sport say Tottenham are using Pau's contract situation, he only has a year left, to put the pressure on.
Pau wants it sorting out as soon as possible, talks have been serious for two weeks, Sport are confident everything will be sorted out by the end of May.