The story coming out of Portugal regarding Tottenham and Bruno Fernandes is pretty similar to the story which has been coming out of Spain for weeks regarding the Premier League club and Giovani Lo Celso.
There's interest, there's been serious talks and offers, yet Spurs haven't got close enough to the valuation of either player.
Tuesday's edition of O Jogo doesn't sound overly confident for a Bruno transfer at all. Record talks up a new move from Manchester United, yet over at O Jogo they clearly don't feel a great deal is actually happening.
It's explained that Tottenham's offer currently stands at €45m plus a further €15m in bonuses. There were no talks on Monday between the two clubs, and everything has gone pretty quiet.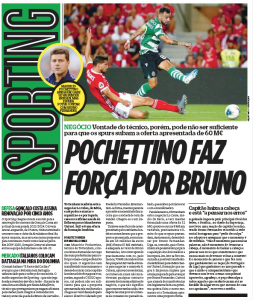 As O Jogo have it, Mauricio Pochettino has been pushing for the signing, but they don't think that will be decisive.
Tottenham and Daniel Levy have their valuations for both Bruno and Lo Celso and there's not a big expectation they're going to change that quickly.
Perhaps the Portuguese newspaper is being too pessimistic this time, and Pochettino will get his way.