David Alaba's contract with Bayern Munich expires at the end of the current season, and it now looks like there's all-out-transfer-war between the player's camp and the German club.
This has dragged other clubs in, with this week's edition of SportBild saying Manchester City, Juventus, Barcelona and Real Madrid all have interest in the Austria international. The German magazine has an editorial headlined: 'The Alaba case: top clubs have to show solidarity!'
It's explained that since the start of trouble in renewal negotiations, Alaba and his camp have accused Bayern Munich of a lack of appreciation. This is dismissed as 'nonsense', with SportBild saying Alaba has often been dubbed the 'new Beckenbauer', and there can be no greater praise from Bayern.
Alaba, who perhaps wants a salary which matches that status, has been offered €11m as a basic salary, plus a further €6m in potential bonus payments. That's been rejected and Bayern have withdrawn the offer 'for the time being'.
When it comes to Manchester City and the other clubs, SportBild insist: 'The moment has come when the top clubs in Europe should finally show their solidarity.'
Therefore, they shouldn't offer Alaba a hefty salary and should presumably offer less than Bayern have or walk away from any interest. That seems a little rich, and it's pretty certain that if this was Bayern as the predator the same sentiment wouldn't be shared.
It's worth noting that Alaba's agent, Pini Zahavi dismissed Bayern's claims in September. Back then, Hasan Salihamidzic was quoted by Kicker as saying: "Bayern have a sporting and financial limit: Robert Lewandowski and Manuel Neuer. I don't think David himself thinks he is above these two colleagues. Zahavi thinks in other dimensions, he can, but we won't follow him."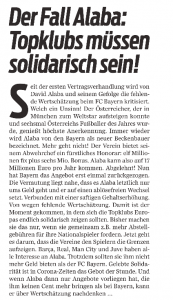 Zahavi, who also represents the Polish striker, replied: "Mr Salihamidzic has apparently forgotten who Robert Lewandowski's advisor is. I negotiated Robert's contract last year and, of course, I know exactly what he deserves. What we're asking for David is well below Robert's salary."
Whether Manchester City interest is true or not, this saga could get quite entertaining in the coming months.