The Spanish press are finally realising that Middlesbrough owned Tomas Mejias exists and is on loan at Rayo Vallecano. There's been little to no coverage of the player because he hasn't been getting games.
Aitor Karanka sent Mejias off to Rayo to get minutes on the pitch, and impress him enough to prove he had a Middlesbrough future, but the Spanish club already had a first choice.
Paulo Gazzaniga is on loan from Southampton and had made the No.1 spot his own. This weekend the Middlesbrough loanee may play instead, but only because his rival is suspended, and Marca say Mejias was only brought in as competition anyway.
Rayo goalkeeper coach Pedro Moncayo says the competition was always going to be "tough" for Mejias, making the whole thing even more curious.
If Middlesbrough knew Mejias wouldn't be getting games, and that he'd simply be back-up with a vague chance of forcing his way in, it presents the question as to why Karanka made it so clear the move was for minutes.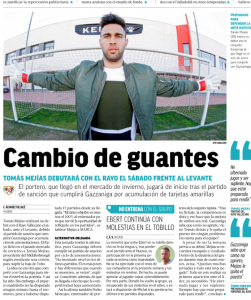 At the time the then Middlesbrough manager said: "I think it's a good move for both of us. For him, it's good to play and to show he's a good keeper. If he does well he can come back.
"We have space for a goalkeeper, especially if they're playing and they are confident. That would be a headache for me."
Either Middlesbrough weren't being straight or the club, and Karanka, were ignorant about Rayo's plans.