Kai Havertz to Chelsea has gone relatively quiet over the past week or so, as the Jadon Sancho to Manchester United saga took the headlines.
Prior to that there'd been all kinds of claims about Marina Granovskaia speaking to contacts in Germany and trying to find a way to get Bayer Leverkusen down on price.
On July 21st, Bild reported Havertz had been made 'an absolute top priority' by Roman Abramovich this summer.
Bayer Leverkusen were said to be looking for €100m, although the German newspaper suggested €70m plus a further €30m in bonus payments could see a deal done.
Around a week later, SportBild brought talk of 'Espionage', which was basically them dramatising things, as we explained at the time: 'The German magazine again claims that Chelsea have been seeking out contacts around the Bundesliga to find out what could make Bayer Leverkusen go weak when it comes to a Havertz transfer.
SportBild say 'one thing is clear' and that's Chelsea's desire to sign Havertz, but Bayer want €100m and the Blues don't want to go above €80m for a total deal.
Therefore, work is going on behind the scenes to find a way to convince Bayer. Of course, this isn't some secret plan, given SportBild have been reporting it for a couple of weeks.'
Bayer Leverkusen were determined to keep Havertz until the end of their Europa League campaign, and given they were dumped out by Inter Milan this week, that issue is now over.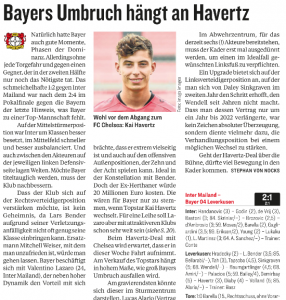 Kicker's magazine this week says the potential Chelsea deal is 'expected to pick up speed this week', and they make it clear 'Bayer's upheaval depends on Havertz'.
There's a lot of other business they need to sort out this summer, and given Bundesliga clubs are already starting preseason, there's some pressure on them to hurry up.
Wednesday saw reports across the German media make it clear a move to Chelsea is closing in, given Bayer's Europa exit, and there's a general positive feeling about this transfer happening.