Arsenal striker Pierre Emerick Aubameyang is an option for Juventus as they look to add a striker to their squad in the January transfer window.
That's according to Tuttosport, who cover how the Italian giants are scouring the market for forward options to bolster their efforts to finish in the top four in Serie A.
Maximiliano Allegri's side are currently seventh in the table after 18 games, meaning they need a strong second half of the campaign if they are to get back in the Champions League next season.
Improving their forward line will be key to those hopes, with Paulo Dybala currently their top scorer on eight goals and Alvaro Morata behind him on seven.
Indeed, their two dedicated strikers, Alvaro Morata and Moise Kean, have only managed nine goals between them this season, a clear problem that needs fixing.
Finances at the club are delicate, though, meaning they have to look at players who are 'unhappy' or whose contracts are expiring in June.
Arsenal's Aubameyang falls into the first category. He was recently fined by the club following a series of disciplinary breaches, which also saw him stripped of the captaincy.
Reports in England have stated that he's now training alone, a situation which is unlikely to change before he heads to the Africa Cup of Nations in January.
In fact, a departure from the Emirates is now looking extremely likely, and Juventus could be one of the clubs who would be happy to take him.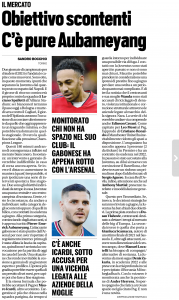 Tuttosport cover how it is almost 'inevitable' he will be leaving Arsenal in January, and the 'most welcome' hypothesis for Juventus would be a six-month loan deal.
That would allow them to assess the striker and then make a decision in the summer when they would 'understand' what to do about the situation. In other words, they want a six-month loan which would act as a trial ahead of a permanent move.
Whether Arsenal would sanction such a deal isn't mentioned, but it's easy to imagine they would take it if they could convince Juventus to take up a large portion, if not all, of Aubameyang's wages.
That would free up funds for them to make their own moves in January and get rid of a player who has seemingly become a disruptive influence in the dressing room.
At the minute it seems Aubameyang is just an idea for Juventus at this point, but it's certainly one that could develop into something more serious in the coming weeks.