Liverpool's Anfield match against Atletico Madrid is now widely seen as having been a bad idea.
At the time Madrid was seeing Covid-19 cases rise quickly and the situation in the city was increasingly worrying. Even before the match there was criticism in both England and Spain about it going ahead, but without UEFA and the UK government taking firm action, the clubs involved decided to play on.
Some Atletico fans were so concerned they decided not to travel, and the club has now refunded the cost of their tickets. There were 290 who at the last minute said they wouldn't be going, and the refund has cost Atletico €17k.
Spanish newspaper AS reports that the cost has fallen on Diego Simeone's club because Liverpool 'refused' to refund the money themselves.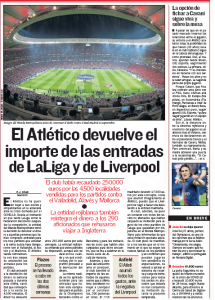 With the match being at Anfield, the revenue from the tickets would be banked by the Reds, and because they've refused to return the cost of the 290 unused tickets to Atletico, as AS have it, the La Liga side have covered it themselves.
Atletico have also refunded the cost of 4,500 tickets which had been purchased for upcoming La Liga matches.