L'Equipe, as an early Christmas present to the English media, have relaunched Thomas Lemar to the Premier League, with Arsenal obviously one of the clubs playing a major part in the story.
In their Tuesday edition the French newspaper explain Liverpool and Arsenal are ready to 'reformulate' their summer offers for Lemar, and in the case of the London club that's said to be €100m.
Such an amount looked high at the time, but in the panic at the end of the window, anything can happen. Now, given the season both Monaco and Lemar have been having, it looks even higher.
L'Equipe state Arsenal are 'willing' to offer the €100m again, which shows Arsene Wenger gives the January effort his full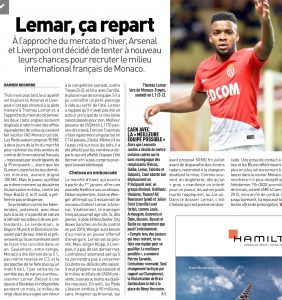 backing, despite the player's less than spectacular season.
It's the same amount Arsenal were said to have offered at the 'last minute' in August.
Lemar is considering a transfer too, which fits in snugly, and surely if an offer around €100m does arrive then Monaco will be minded to accept.