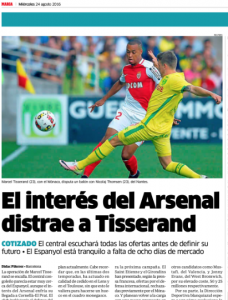 Arsene Wenger's interest in buying a defender this summer seems to have had an impact somewhere at least. Spanish newspaper Marca report in their Wednesday edition that Espanyol have all but given up on signing Marcel Tisserand.
The Barcelona club had been trying to build a deal for Tisserand over the past few weeks, but the emergence of Arsenal interest has seen them step away. Marca explain that the 23 year old was close to completing his transfer to Espanyol, but now wants to wait for Arsenal developments.
Espanyol know they can't compete with Arsenal financially, and they don't have the same sporting pull. Signing for Arsenal and Arsene Wenger is a temptation which Tisserand would obviously find greater than Espanyol.
AS Monaco would be willing to sell for €5m, given that Tisserand hasn't made the breakthrough to their first team and has been on loan at Toulouse.
The claims of Arsenal interest originally started in France and it was stated Wenger wanted Tisserand as a squad option, buying another defender to walk straight into the team.