Monday's edition of Sport insists Leeds United's Raphinha is still holding off on a transfer to Arsenal as he waits for a move to Barcelona.
The Catalan newspaper say the Brazilian has decided to wait and see whether Barca will make a serious move for him in the coming days. Raphinha is said to have met with his agent, Deco, in Ibiza to discuss their transfer stance going forward, and both agreed that waiting for a few days is the best plan of action.
According to Sport, Raphinha, or more likely his agent, will try to push Leeds United into lowering his transfer fee, to make it easier for Barcelona to sign him.
However, doubts are clearly creeping in, and the continued situation around Ousmane Dembele, who has been messing Barca around for a year, doesn't help things.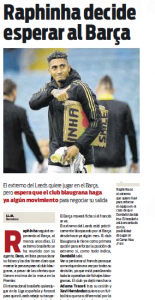 Sport say Deco and Raphinha are now 'somewhat uneasy', having received an 'important offer' from Arsenal. The Gunners are said to have made two offers to Leeds United, but Mikel Arteta's side don't yet have the player's approval.
What happens with Dembele would appear to be key for Raphinha's future.