Jadon Sancho to Manchester United has been something of a rollercoaster this week. Monday saw a string of claims which made it sound like the transfer would be completed within a few days, and then everything started to fall back.
Manchester United told their closest media that they'd walk away from a deal if Borussia Dortmund don't reduce their €120m asking price. Then Borussia Dortmund hit back by saying there's been no contact, either direct or through intermediaries, and that they expect Sancho to travel to their Swiss training camp on Monday.
Kicker cover the situation in their magazine this week, and they insist the Premier League club are setting themselves up for a 'fundamental error' if their plan is to wait for Dortmund to drop the price.
The Bundesliga club are being 'hard' over the transfer and 'compromises are obviously impossible'. Kicker add: 'Manchester either agrees to handle the transfer on the terms dictated by Dortmund by August 10th – the start of the training camp in Bad Ragaz (Switzerland) – or there is no deal.'
At Dortmund they assume that 'in the next few days' Manchester United will turn up with an offer 'well below' the €120m. That's so 'negotiator Ed Woodward would save face with coach Ole Gunnar Solskjaer and the United fans'. It's not the first time that slant has been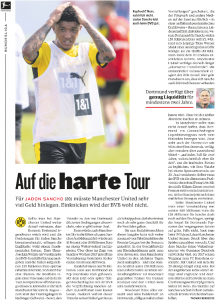 given in Germany, and they clearly don't have a lot of confidence in United's willingness to pay the fee required.
Kicker say Woodward could then present himself as 'having tried everything' and 'failed heroically' due to Dortmund being unreasonable.
Meanwhile, there's complete 'serenity' at BVB, where they believe they'll still be able to get a good fee for Sancho next summer, despite his contract situation.