Manchester United duo Edinson Cavani and Anthony Martial are options for Juventus as they look to bolster their forward line in January.
That's according to Tuttosport, who say the United pair are on the Italian giant's list as they look at players whose contracts are either expiring or want out of their clubs.
Juventus have had a real problem with goalscoring this season, with Paulo Dybala their top goalscorer and their dedicated strikers, Alvaro Morata and Moise Kean, only managing nine goals between them so far.
It's an issue that needs resolving, particularly if they are to have any chance of getting into the top four, a race in which they are already seriously behind.
With finances tight, though, they need to look at players who are either out of contract or want to leave and Manchester United pair Cavani and Martial fall into those categories.
First Cavani, who is out of contract at Old Trafford in the summer but looking increasingly likely to leave early in January after being pushed to the sidelines by the arrival of Cristiano Ronaldo.
He's been heavily linked with a move to Barcelona to replace Sergio Aguero, and Tuttosport say they are moving with 'conviction' to make a deal happen.
He has been 'approached' by Juventus in the past, though, and that could open up the chance for them to get him should they want to do so in January.
Martial, meanwhile, is reportedly on his way out of Old Trafford after being deemed surplus to requirements, and his agent has confirmed he wants a move elsewhere so he can play more regularly.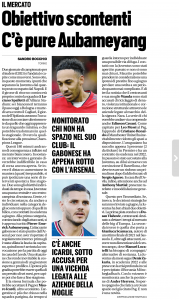 He is yet to make an appearance under new manager Ralf Rangnick, and the German coach has admitted he intends to talk to the unhappy players in his squad about loan deals.
Whether Martial would accept one hasn't been made clear, but either way, Juventus could be a destination as he is on their list.
Tuttosport, though, hint they'd want a permanent deal as bringing in the Manchester United man would be 'for the immediate'. In other words, he's a signing to improve them immediately.
What sort of deal they could offer isn't mentioned, and perhaps a loan deal would with an option to buy would work best for all, but the interest in Martial and Cavani is there nonetheless.