The Catalan sport newspapers are jointly rounding on Jurgen Klopp for putting Coutinho on the bench against Everton at the weekend.
Looking for anything to drive a wedge between Klopp and Coutinho, and stir up as much trouble as possible at Anfield, what was probably not a huge deal is being talked up into something very different indeed.
Earlier this morning we covered Sport describing Coutinho's 'disgust' over the Everton decision, and Mundo Deportivo have also joined in.
The other Catalan sport newspaper say Klopp's 'incomprehensible gesture' of not picking Coutinho as a starter for the Everton match 'gives more strength morally' to the Brazilian and his push for a January transfer.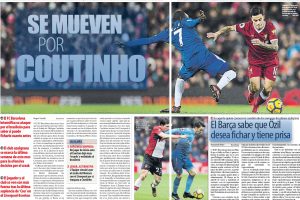 In claims that are of course for a biased Barcelona audience, both Catalan newspapers are clearly twisting things in their favour and trying to get mileage out of Klopp's team decision against Everton, and the subsequent draw against Sam Allardyce's side.