The journey to success is different for every footballer, with each individual having to overcome their own obstacles and choose their own path before hitting the top.
It's particularly hard for African footballers looking to make their first steps at a young age. Unlike their European counterparts or even those in South America, the path to Europe is not so easy.
Particularly given the money invested in youth development and training is nowhere near as high as it is elsewhere.
Idrissa Gana Gueye is a player who made it out, now a star midfielder for Everton in the Premier League and courting the interest of Paris Saint Germain.
He recently sat down for an interview with France Football to discuss his route to the top, revealing that for him, football started on the beach.
"Before playing football in these streets, my parents moved a hundred miles away by the sea, so I started to play football on the sand, and it lasted until I was eleven," he says.
"Then we went back to Dakar. In the Medina, there was no sand, we were playing on the road. Very quickly, I joined the school Ibou Ba, founded by Ibrahim Ba, the former player of the France team. In truth, it's a bit more complicated than that.
"Initially, I was enrolled in another football school in the city but had to play with boots and participate in technical and tactical workshops. I did not like that at all. So I did not go, and I went instead to Ibou Ba because there, I could continue to play barefoot and have fun with my friends. It was happiness.
"No headaches and, above all, I did not want to play with boots. I played number 10, I was nicknamed "Barefoot" because, in training or in a match, I was the only one not to wear football boots. There was no rule here like in the training centres. It was total freedom."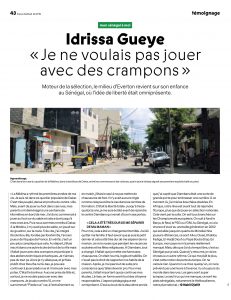 Gueye eventually caught the eye of Lille at Diambars, and the French club decided to snap him up in 2008.
After two years with their B side, he made his debut in 2011, playing a role in their Ligue 1 title success that year as well as regularly featuring in the Champions League.
A £9m move to Aston Villa followed in 2015 and, despite suffering relegation that year, Everton moved to snap him up for £7.1m the following summer.
He's since become a star at Goodison Park, making over 100 appearances for the club and being a key player for three managers to date.
This summer sees him linked with a move to PSG once again and Gueye admits that the dream for African footballers is to play in Europe, with the Everton midfielder admitting PSG is one of the clubs they follow closely.
"In Africa, our dream is above all to join Europe, rather than play in the national selection," he adds.
"This comes afterwards. We are all connected to the European championships. We follow Barça, Real, PSG or OM thoroughly."
"In Senegal, we are fortunate to have had a beautiful generation in 2002 that went to the quarters of the World Cup. Our reference players are Aliou Cissé, Khalilou Fadiga, El-Hadji Diouf and Papa Bouba Diop."