Catalan claims on Coutinho to Barcelona aren't going to go away and if anything are only likely to pick up ahead of the January window.
Whilst wider media outlets in Spain repeatedly suggest the Liverpool transfer would be much better off in the next summer window, in Catalonia that doesn't sell enough newspapers, so the winter window has to be zoned in on.
Mundo Deportivo once again state terms have been agreed between the Brazilian and Barcelona, and Coutinho is fully geared up for leaving Liverpool.
That, once again, leaves the stumbling block of Liverpool. Barcelona are going to hold a meeting with the Premier League club next month to try and push things forward, with the hope Coutinho could then move as soon as the January window opens.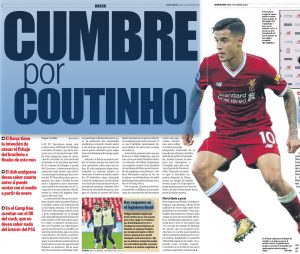 Barca's first offer would revert back to the €80m + a further €30m in bonuses plan, which seems largely pointless, with Liverpool certainly set to reject that.
Whilst Barca hope for a window opening deal, Mundo Deportivo says the failure to get that doesn't mean the club will give up on Coutinho, trying to reach an agreement with Liverpool until the end of January.