On November 29th, all of two weeks ago, Catalan newspaper Sport reported a breakthrough on Coutinho to Barcelona. 
It was claimed Liverpool's owners FSG had been persuaded to accept deferred payments on a January transfer, allowing Barcelona to spread the cost of the transfer out over the player's contract.
This had been arranged by representatives of Coutinho holding meetings in Boston, so whilst Liverpool were still said to want €150m, this could be made up of a flat fee and bonuses, paid over a period of time.
In their Wednesday edition, Sport have it differently. It's explained Liverpool are to be made an irrevocable offer, and the €150m figure is covered again, but Sport then add: 'We will have to see if they accept that the operation is paid in installments.'
So, after claiming two weeks ago that Liverpool's owners FSG had already accepted to spread the payments out, Sport now go back on that.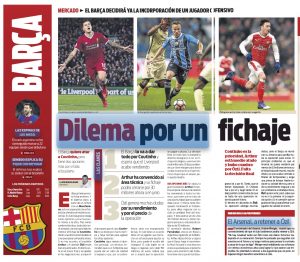 It's again claimed there's 'total agreement' with Coutinho on his own terms, and again stated the player has agreed to take something of a hit on his wages.
Should Liverpool not agree then Barcelona's next option is Gremio's Arthur, and if the Brazilian can't be signed, Mesut Ozil, previously ruled out by the Catalan press, is brought back in.