Everton are on the hunt for a new striker this summer and that has inevitably got them looking around Europe.
Marcel Brands has a specific set of requirements, though, particularly when it comes to the player's age.
The Dutchman prefers signing younger, talented players with a high resale value, which led him to target Juventus youngster Moise Kean.
The young striker burst onto the scene last season with several impressive performances but there was a suggestion that disciplinary issues could tempt Juve into selling up.
In fact, the last we heard Everton were pushing hard for his signature and had opened the bidding with a €30m offer for him. Sadly, it appears their efforts will be in vain.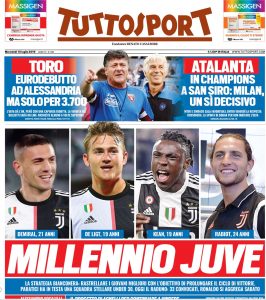 Tuttosport reports today there have certainly been '€30-40m offers from England' but Juventus are keen to get their young talent signed up to long-term deals.
The aim of sporting director Fabio Paratici is to create a 'star team of under 30s' and he, therefore, wants to 'prolong the stories' of the ones they currently have. Kean will be towards the top of that list.
Even if there's no renewal, it seems more likely he'll end up at Ajax should he leave. The Dutch club remain interested in Kean but the asking price, between €30-€40m, is too much for them right now.
However, they're likely to conclude the deal for Matthijs de Ligt soon and that would make a deal easier to do. They've also got plenty of experience dealing with Raiola after the De Ligt saga this summer.
It all points to Everton missing out on Kean, despite their best efforts to get him. The move was always a highly ambitious one anyway given his status and the offers he would have.