Carlos Bacca has somehow held on to his AC Milan career, despite the club trying to sell him more than once. Last summer Milan agreed a fee with West Ham, which would have seen the Colombian move to the Premier League.
However, despite West Ham and Milan both repeatedly trying to convince Bacca to take the move, the striker refused. Slaven Bilic had to move on to other targets for West Ham, and Milan were left without the big chunk of transfer money they'd hoped for.
After failing to sell Bacca to West Ham, Milan moved on to China during the winter window, but once again the player refused to leave the San Siro. With 13 goals and three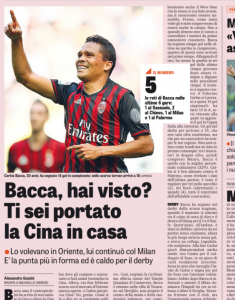 assists in Serie A so far this season, he's certainly shown his worth.
Now Milan have more money, with their takeover finally going through, Bacca may not be ushered toward the exit door this summer.
That suits him, with the 30 year old insisting he's not motivated by making money.