Arsenal will soon have the chance to sign a target they have been following for a long time… for free.
São Paulo youngster Marquinhos Cipriano, who has been receiving attention from several European sides, with Arsenal one of the biggest names, will be able to sign a pre-contract agreement in a few months.
The 18-year-old's current commitment with São Paulo is expiring in September 2018, making him available to sign a pre-deal in March.
São Paulo obviously rate him highly and will make big efforts to keep the starlet at the club, but despite the player's will to stay and develop in Brazil, an attractive offer from abroad could end up changing his mind.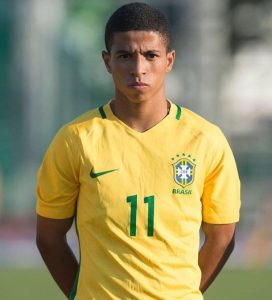 Cipriano was recently picked by Four Four Two as one of the 100 best U19 players in the World, as he's been impressing both for club and country.
He recently played for Brazil in the 2017 Toulon Tournament, and ended up being approached by French sides PSG, Monaco and Nice.
Next month, Cipriano will be featuring in São Paulo's U20 squad at the Copa São Paulo, Brazil's biggest youth tournament. That's where most youngsters start getting offers from Brazilian and foreign clubs, and it should be no different with him.
Besides Arsenal, Porto, Atletico Madrid and Juventus had previously made contact for him as well. His current contract includes a €30m realease clause.
In June, Sport Witness exclusively reported on Arsenal interest in the youngster, with the Premier League club's interest going back a couple of years.